Krueger Ale: 1951

This particular Krueger's label didn't last very long, only until early 1952 when Krueger switched to a mostly white label after deciding that white was more eye-catching. I like it because it's one of the most colorful labels, and was matched by an equally colorful Krueger's Beer can. I picked this Ale up at the Blue-Gray show this year as an upgrade.
Krueger Brewing went though many label changes between 1935 and 1964 when pull tabs replaced flat tops. In the USBC there are no fewer than 55 flats, 6 conetops, 3 crowntainers, 12 quarts and 8 pint cans listed, and the USBC missed a few variations. As a result, there are lots of variations for collectors to find. Even better, most of the variations are not tiny hard-to-see differences so they look nice on the shelf, and best of all, only a few Krueger's cans are rare, so most collectors can hope to put together a nice collection of Krueger cans without spending the mortgage money!
The matching Krueger Beer.

Krueger's Brewing 1858-1961
Krueger's began life in 1852 (yes I know it says 1858 in the section heading, but bear with me...) as a small Newark brewery run by a J. Braun and John Laible. Braun died before the brewery was finished being built, however, and so Laible found a new partner in Louis Adam. The brewery produced about 1,200 barrels a year, but that was enough to make it successful. In 1854 Laible wrote to his sister in Germany and asked her to send his 16 year old nephew, Gottfried Krueger, to help him in the brewery. Young Gottfried showed up later that year and started as an apprentice for his uncle to learn the brewing business from the ground up.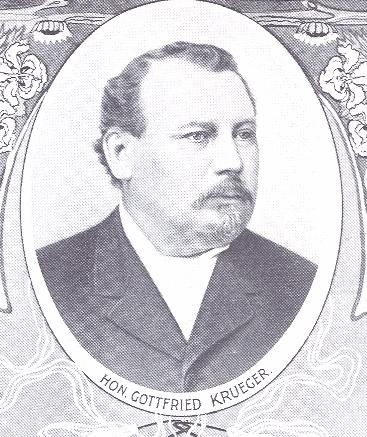 Gottfried Krueger circa 1900.

In 1858 Laible and Adam broke up their partnership and Liable (and Gottfried) moved on to start a new brewery. Krueger had learned enough to become foreman at the new business, a role he filled until 1865. In 1865, Krueger, Laible and a man named Gottlieb Hill bought out Adam's brewery and renamed their business the Hill and Krueger Brewery. At first they made about 4,000 barrels a year, but expanded the business adding two 2,500 barrel capacity vaults, a new brick malt house, a large stable, ice house, etc. Within 10 years their production had increased to almost 25,000 barrels a year.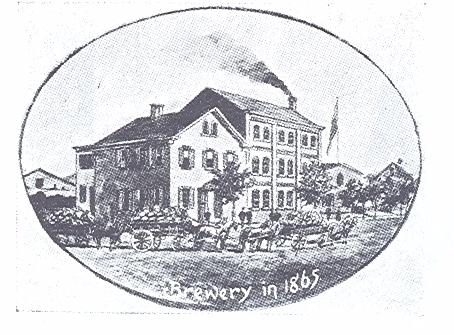 Krueger Brewery circa 1865.

In early 1875 Hill died and Krueger bought his interest from his heirs. Krueger was the sole owner of what was now G. Krueger Brewing Company. He continued to increase production and by 1900 he was producing 182,000 barrels a year. Krueger continued to modernize his brewery, adding new buildings, new equipment, selling his beer in bottles, etc. Two of his sons joined their father in the business, Gottfried C and John F. Krueger (Krueger and his wife had 14 children, not all of whom survived to adulthood).

In 1908 Krueger joined with two other large brewers, Peter Hauck and Anton Hupfel, to form the United States Brewing Company. They bought brewing interests from an English brewing syndicate adding what used to be the Trefz and Albany Brewing companies. The new conglomerate could produce half a million of barrels a year. Krueger also owned the Lyon and Sons Brewery of Newark as well as shares in three other Newark breweries, Home, Eagle and Union. After a few years the United States Brewing Company dissolved and Krueger gained outright ownership of not only his own original brewery but also Trefz, Home, Union and Lyon and Sons.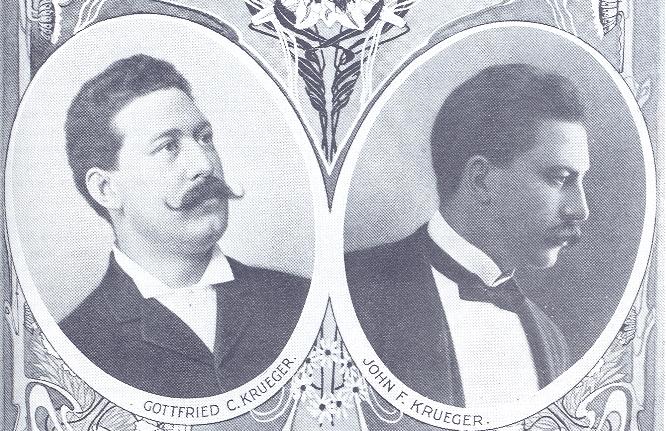 Krueger's Sons. Circa 1900.

In 1920 Prohibition closed all of Krueger's breweries except his original facility. It remained open making near beers, soda and soft drinks. The brewery didn't prosper as it had before, production was only 1/3d of what it had been, but it at least survived. Krueger died in 1926, however, before Prohibition ended. His son William C Krueger became the new President.
On April 7, 1933 3.2% beer was legalized (full strength beer would become legal in December 1933 with the ratification of the 21st Amendment). Of the New Jersey breweries only Krueger's and Hauck's were ready to go (Ballantine would soon follow as would other breweries). A crowd gathered around the spotlight illuminated Krueger brewery waiting for midnight when beer could be sold legally. The lines of people didn't dissipate for two days.

The First Cans
As they reopened for business with the end of Prohibition Krueger's made a crucial big jump into new territory. American Can Company had developed a can that was appropriate for holding beer. It had to be lined as beer is very quickly ruined by contact with metal. It also had to be strong enough to withstand pasteurization and the pressure of carbonization from the beer inside. While brewers around the country were eager to try new packaging to increase their market shares, no one wanted to be first and risk a disaster.
Krueger made the initial leap, if cautiously. First they ran a test. In 1933 they packaged their 3.2% beer in 2,000 cans which were sent to faithful customers and others with ties to the brewery. The testers were also given a questionnaire to mark their reaction, and 91% liked the canned beer. Krueger was reluctant to go ahead though, until American Can made them a deal. They'd install the canning machinery in the brewery and if the new container was a flop, they'd uninstall the canning line and Krueger wouldn't owe them a cent. With that promise, Krueger decided to go. However, to minimize the risk to their reputation if the test was a flop, they chose Richmond, Virginia as their test area. It was far enough away that if the cans were unpopular it wouldn't hurt Krueger's core market.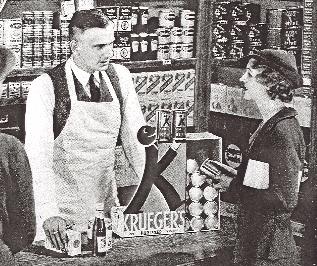 Krueger in cans please!

In January 1935, Krueger's Ale and Beer appeared in cans in Richmond and the test was a flying success. More and more distributors began asking for Krueger's in the new cans. Krueger's began expanding its market share, and began selling their beer cans all through their core markets in the mid-Atlantic and North-east. They even began to bite into the market share of the big national brewers such as Budweiser and Pabst. In May 1935 Pabst signed up with American can. They tested their "Export" beer in Rockford, Illinois before distributing them throughout the country. Northampton Brewing began selling Tru Blu Ale and Beer in National's cans in mid 1935. By the end of 1935 thirty-six brewers were using beer in cans.

Krueger's did well in the 1930s and 1940s and they became one of the biggest regional breweries in the eastern US, selling all up and down the Atlantic Coast and in New England. The brewery itself expanded and by the end of World War Two could produce 750,000 barrels of beer a year. They purchased the Delmarva (Delaware-Maryland-Virginia) Brewery in Wilmington, Delaware to use its extra production capacity. This Delaware plant was closed in 1951 however, as it was too outdated to operate at a profit. But by 1953 the Newark plant was making over a million barrels of beer a year. Also, sometime in 1936 or so, Krueger's dropped the "s" and became Krueger Beer.

The 1950s: A Label Merry-Go-Round
During the 1950s Krueger Brewing seems to have put a heavy emphasis on advertising, judging from the newspapers ads and POS (point of sale) pieces that can be found. They also redesigned their labels every year on average. Moreover, many of the changes were quite radical, completely changing the look of the label. While I have not yet found a study on how this affected their sales, I wonder how it possibly could have helped as some of the label changes were quite drastic.
In 1957 Krueger's was sold to a new group of owners headed by John Eisenbeiss although some of the Krueger family retained their interest in the company and William C. Krueger remained board chairman. In 1958 the brewery celebrated its 100th Anniversary. The celebration couldn't hide the fact that Krueger's was suffering a loss of market share to the national companies like Schlitz and Anheuser-Busch. In 1961 the company was sold, the Newark plant was closed and the brand was produced by Narragansett in Cranston, Rhode Island. The original brewing plant was leveled in 1988 to build, what else, a shopping center.
The "K" Man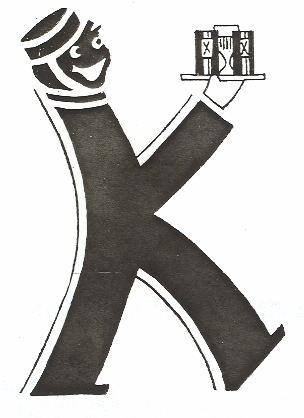 The Krueger K-Man!
During the post-prohibition years Krueger's used a distinctive logo, the "K-Man", a stylized waiter in the shape of the letter K. The K-man carried a tray of Krueger's Beer with a glass and a bottle or can. Over the years the K-Man became less prominent, only to be revived, then made less prominent again. But he remained a constant on the labels, appearing on several different designs. The K-man appeared on Krueger's first been can, and therefore on the first beer can ever sold. In 1937 what was supposedly the largest sign ever erected to that point in New Jersey was erected in Newark. The sign was 57 feet tall and 50 feet wide, topped by a 27 foot tall K-man. It took several thousand feet of neon tubing and over 2 miles of wire to light up the figure.

In 1954 the K-man became "Mr. K" and was used in "Mr. K says..." ads in which the figure said such things as "People who care about size of hips...let no beer but Krueger pass honorable lips" Krueger labels featured a smaller and smaller K-man until the end of the 1950s, when he disappeared from the front of the label for awhile. He reappeared in the 1960s when Krueger Beer was being made in Rhode Island.
The K-Man neon sign, circa 1937

Brands Produced
(brands sold in cans are in bold)
Ambassador
Krueger's Finest Beer
Krueger's Cream Ale
Krueger's Bock
Kent Ale
Old Surrey Porter
Name Changes
Braun & Laible 1852-?
Laible & Adam ?-1858
Louis Adam 1858-1865
(Gottlieb) Hill & (Gottfried) Krueger 1865-1875
Gottfried Krueger 1875-1889
Gottfried Krueger Brewing Co. (branch of U.S. Brewing Co.) 1889-1896
Gottfried Krueger Brewing Co. (branch of United States Brewing Co) 1896-1920
Krueger Beverage Co. 1920-1933
Gottfried Krueger Brewing Co., Inc. 1933-1934
G. Krueger Brewing Co. 1934-1961

Sources Used
Beer Can Collectors of America. United States Beer Cans (Beer Can Collectors of America: Fenton, Mo)

"Creative Specifications Essential for Advertising Success" Modern Brewery Age. October 1954.

Dikun, John. "Gottfried Krueger Brewing Company." American Breweriana Journal.
"Krueger Introduces Canned Beer" Modern Brewery. March 1935.

"Men Who You Know" Modern Brewery. September 15, 1933.

Pawlowski, Steve. "The G. Krueger Brewing Company" BCCA News Report, (March-April 1985) 5-7.

"The 'K' Man" Modern Brewer. September 1937.
"Old and New" Brewer's Journal. (April 1952)

Van Wieren, Dale P. American Breweries II (West Point, PA., East Coast Breweriana Association, 1995)
Western Brewer, 100 Years of Brewing. (Chicago: H.S. Rich & Co., 1903)