Buffalo Beer: Circa 1940
Buffalo Brewing, like many breweries around the U.S., was named after a city. Only in this case, it wasn't named after the city where the brewery was actually located, but across the continent. Founded in 1888 by Henry Grau, who had worked in breweries in Buffalo, New York, the new Sacramento brewery was named Buffalo supposedly because Grau liked the name. While most new breweries started small, Grau was ambitious and built a large facility from the beginning. The new brewery was finished in May 1890 and consisted of the brewery, a malt-house, an ice factory and a bottle house.
Grau would soon have a partner, Frank Ruhstaller. He was already active in Sacramento as a brewer. In 1881 he had purchased a steam beer plant was founded by Hilbert & Borchers in 1859. A native of Switzerland, Ruhstaller took over the City Brewery in 1881 and also built another brewery at 12th and H Streets. Ruhstaller maintained an large three-story headquarters building and saloon at 9th and J Streets downtown where you could buy "Ruhstaller Beer."
View of Harry M. Bowman's painting shop at 918 11th Street, Sacramento, ca. 1900-1910; unidentified individuals, possibly including Bowman and his employees, displaying carriage wheels in foreground. Buffalo Brewing Company storefront at right. © Sacramento Archives and Museum Collection Center. (used according to conditions posted at Sacramento History Online All rights reserved by the copyright owner.)
With the growing popularity of lager beer, Ruhstaller discontinued production of steam beer and merged his holdings with Buffalo in 1897. The new combined brewery expanded operation selling Buffalo and Ruhstaller including beers and porters. They also sometimes produced ales and a bock beer. The Ruhstaller family eventually became the major shareholders and managers of Buffalo Brewing Company.

Buffalo Brewery circa 1910. © California State Library, California History Room (used according to conditions posted at Sacramento History Online All rights reserved by the copyright owner.)
Selling their beer in California and Nevada, the brewery also sold overseas including to Hawaii, the Philippines, and Central America. They sponsored a baseball team in the California League (which later became the Pacific League). The brewery team, named the Sacramento "Gilt Edge" (named after Gilt Edge beer) was also called the "Brewers." They won pennants in three straight years from 1898-1900.
The brewery set up a canteen at Fort Point at the Presidio near San Francisco for the soldiers there. However, the Army was trying to fight alcohol abuse by soldiers at the post, so at the end of 1901 they forbid the sale of beer at military reservations. That included closing the "unsightly" Buffalo Brewing canteen. A year later it was still open until the post's commanding officer took action against it. Even after beer was removed from the post there were still over 50 saloons within a mile of the base and incidents of drunkenness, absences without leave, and dissertations increased. The commander, however, noted that this was due to an influx of thousands of new recruits in 1902 and was not due to the beer restrictions.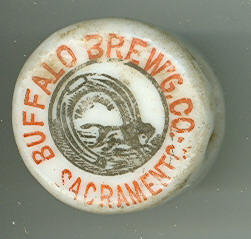 Porcelain stopper from a bottle of Buffalo Beer (top view)
Buffalo Brewing closed when Prohibition came to California in 1920. However, the Yolo Brewery in Woodlawn California, advertised that it sold Buffalo and Ruhstaller "beverages" (probably near beer) as well as seeds (including barley) and ice. The relationship between the two breweries is unclear (at least to me at this point). A 1932 article in the "Woodland Daily Democrat" noted that the owner of the Yolo Brewery reported that all the brewing equipment had been stripped from the building, and that even if prohibition ended, that "Yolo Steam Beer" would not be produced again. The same article, however, noted that the Buffalo Brewery could be brought back into operation in two weeks. (July 8, 1932)

Yolo Brewery advertisement from the "Woodland Daily Democrat" April 16, 1927.
Indeed, when prohibition ended in 1934, Buffalo Brewing did reopen with a modernized brewery that was at full production in 1934. The brewery was headed by Frank Ruhstaller, the son of the original Captain Frank Ruhstaller. They retained the same brewmaster, Fred Wallner, that had been with the company since 1905. In 1937 the brewery issued its beer in cans, selling both Buffalo and Gilt Edge in the new container. The Gilt Edge can appears not to have been used very long, although Buffalo Beer was sold in cans until about 1941.
Buffalo Brewing newspaper advertisement, June 1937.
The brewery seems never to have regained its old market and it closed in 1942. In 1945 it was reopened by Grace Brothers Brewing of Santa Rosa. Grace Brothers started selling Buffalo Beer in cans in 1947 until closing the brewery again, this time for good, in 1949. The brewery was torn down in the 1950s.
FYI: The Yolo Brewery, founded in 1861, sold only beer in kegs. It burned down in 1934 when a fire started in a boiler room. While I still don't know why they were selling "Buffalo Beer" at least now I know what happed to the brewery. (And thanks to Carl L. for the correction and info!)
Name Changes (Buffalo plant only)
Buffalo Brewing 1890-1897
Buffalo Brewing (Branch of Sacramento Brewing) 1897-1920
Buffalo Brewing 1934-1942
Buffalo Brewing (owned by Grace Brothers) 1942-1949 (no production 1943-44)

Sources Used

Beer Can Collectors of America. United States Beer Cans (Beer Can Collectors of America: Fenton, Mo)

"Following an Old Yolo Tradition" Woodland Daily Democrat. June 1, 2006.

Rootsweb.com (Captain Frank Ruhstaller)

Sacramento History Online

Thompson, Erwin. Defenders of the Gate: The Presidio of San Francisco, A History from 1846 to 1995. (National Park Service 1997) 123-124.

Van Wieren, Dale P. American Breweries II (West Point, PA., East Coast Breweriana Association, 1995)

Western Brewer, 100 Years of Brewing. (Chicago: H.S. Rich & Co., 1903)