Apache Conetop, circa 1936.
| | | |
| --- | --- | --- |
| | | WHAT THE HECK? yes, the Apache on the left is VERY rusty!!!. On the right is a nice one that is NOT mine, alas. |
This month is a very tough cone top can, an Apache from Arizona Brewing in Phoenix. You're probably wondering "what the...." when you see how rough this can is, but the picture to the right shows what an on-grade one looks like! I picked up one of these in trade just a few months ago from a fellow Rusty Buncher who found a huge dump in New Mexico. He picked up a bunch of mystery cans, and when he soaked them in oxalic acid, 12 of them were Apache's! There were less than a case known in all conditions before this, so the cans got snapped up pretty quickly. I'm just happy to have an example on my shelf.
Arizona Brewing 1933-1964
Arizona Brewing was one of the many breweries founded when Prohibition ended in 1933. It was founded April 3, 1933 by two brothers, Martin and Herman Fenster. Built on E. madison Street, it could originally produce only 15,000 barrels a year, but Phoenix only had 50,000 people, so a small brewery was sufficient. Both brothers had worked in breweries before, Herman had been with the Los Angeles Brewing Company, among others. They hired an experienced brewmaster, Oskar Scholz, who had been the Brewmaster at the Pilsen Brewery in Pilsen, Czechoslovakia. The first batch of beer, a 3.2% lager, was ready in October 1933. At first it was only available on draft, sold as Arizona Brew.
A bottling line was added quickly, but the Fenster brothers decided they needed a new product name. They held a contest with $50.00 going to the best name and a case of beer to fifty honorable mentions. The winner was "Sunbru." The brand, however, was short-lived, as the owners, for whatever reason, decided to sell their brewery. The new owner was E.P. Baker, the general manager of the Aztec Brewing Company in San Diego. The purchase was announced in April 1934, only a year after the brewery's founding. The new owners announced that they were going to increase the brewery's output and add more bottling equipment. They also hired a new brewmaster, George Bines. Scholz moved to El Paso and became brewmaster for the
Harry Mitchell Brewing Company
.
In June 1934 Apache Beer replaced Sunbru as the brewery's main brand. At first it too was only available on draft, but by the end of August 1934 was being sold in bottles. The new brand was a hit and in early 1936 was being sold all over Arizona and New Mexico as well as in parts of Texas. A new bottling line was added and in late 1935 Arizona Brewing was one of the early brewers to put their product in cans.
Apache: Chief of Them All

The brewery used several different adverting campaigns, some of them unique, to promote Apache Beer. Starting in 1935 the brewery hired a local Indian man to go to public events all around Arizona dressed in the war bonnet like the figure on the label, and riding a pony using an Indian style blanket bearing the company name and the Indian head trademark. The general manager, B. J. Russel noted
"Because he saw our Indian a man won't immediately go out and order a case of our beer. But, seeing that Indian does leave a lasting impression that eventually bring results. Every time a person sees one of our trucks, one of our signs, a newspaper advertisement or anything carrying our Indian head design, he is going to remember the Indian representative. Consequently, the name of our product will gradually come to really mean something to him....After enough repetition, he is likely to decide he should try our product---providing he hasn't already done so." (
Brewers Journal
, January 1936, p. 82).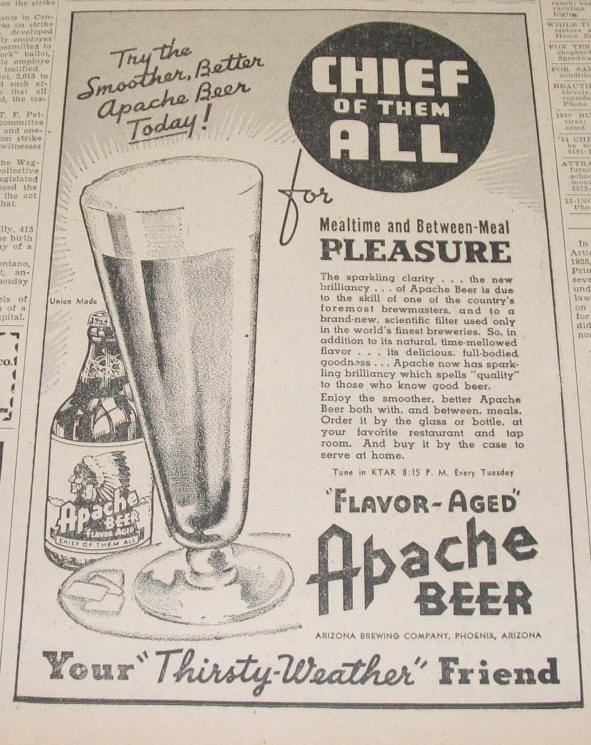 Apache Ad, 1938.

The brewery also used radio shows to promote Apache Beer. They sponsored a show titled "The Apache Travel Chief" to promote in-state tourism. It was a five minute show, broadcast in the morning, in which the "Travel Chief" described a short trip to some place in Arizona, giving the best route to take, how long it would take, what to take on the trip, what to see, etc. The broadcast ended with a theme song using "tom toms" and a woman announcer suggesting that the housewife packing lunch for the trip take along some Apache Beer. The end appeal was an example of the changing marketing strategy used by many breweries in this period, appealing to the housewife to buy beer as part of her normal grocery shopping. Brewers used this marketing strategy well past the 1950s.

Before the show was broadcast, letters were sent to the chamber of commerce and other civic organizations in the area to be highlighted. Newspaper ads (see below) were published in whatever towns were featured as well and the dealers who sold Apache beer in that area would be notified. While it's not clear how many times each specific show would be broadcast, it would make sense that the same tour would be highlighted on every broadcast for a week. Otherwise, the local marketing effect would be diluted if several trips were highlighted in the same period.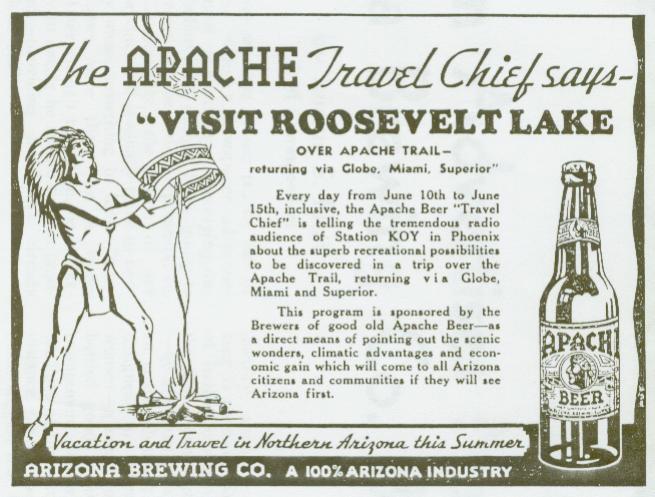 An Apache Travel Chief newspaper ad. circa 1935.

The January 1936 issue of Brewers Journal published a partial script from one of the "Travel Chief" broadcasts.


"Hello everybody. Our trip this weekend takes us to one of Arizona's most scenically beautiful spots....and one, which, surprisingly as it may seem, many Phoenicians have never had the opportunity or taken the time to explore. Our destination is gloriously cool. Roosevelt Lake reached over the rugged, historical old Apache Trail. One may travel this road every day in the year yet the ever-changing desert and mountain scenery will always present something new to attract your attention...something different to thrill and hold you spellbound."
"The Apache trail loop trip has gained world-wide fame...indeed, hardly a visitor enters Arizona who has not already, at one time or another, heard of the Apache Trail, and included this vastly interesting trip in his list of 'places to see.' The Apache Trail is literally named, for here, not so many years ago, the fierce but colorful Apache brave, on the warpath to raid and slay, once rode the trail which bears his name. In those days, the Apache Trail was but a tortuous Indian footpath, filled with danger and not infrequent death. But, a few years can make a tremendous difference, and the Apache Trail, as we know it today, is a smooth, well surfaced motor highway, through some of Arizona's scenic sections."

Arizona Brewing also sponsored a sports score show every afternoon at 5:45. The scores from the baseball games in the east were usually sent over the wire services at 5:30 so they would still be fresh news when the show was aired. The broadcast started with "Take Me Out to the Ball Game." The five minute show then gave a quick summary of that day's scores.
Another New Owner, and Another, and Another...

In June 1937 the brewery was again put up for sale. The newest owner was Robert H. Elder, the president of one of the largest liquor, beer and wine distributors in California. He hired another new brewmaster, Erhardt W. Lindner. A Bavarian native, Lindner had been head brewmaster of the Peerless Brewing Company in Washington, Missouri. Lindner set up a alcohol distributing business in the brewery so he could delivery whisky and wine along with his brewery's products. He also, for unknown reasons, eliminated the canning line. It may have been a cost cutting measure, but it meant that fewer than 300,000 cans of Apache beer were filled, making it a tough can to find. The Arizona Brewing Company would not can beer again until 1948, when it canned A-1 beer.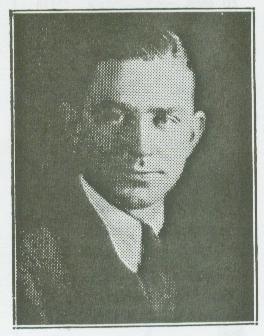 Robert Elder, circa 1938.

Elder started one of the more unusual promotions for Apache Beer; their parking meter campaign in 1938. Brewery representatives in Phoenix would check the parking meters and when they found one that was expired (or close to expiring) they would deposit a nickel and leave the flyer pictured below on the windshield. It was a nice promotion that not only built goodwill towards the brewery, but it also played on the Apache "Indian' theme because nickels at the time had an Indian head on one side and a buffalo on the reverse. (The Jefferson nickel came out in 1938 and the Buffalo nickel was discontinued at the same time.)
| | | |
| --- | --- | --- |
| | | A 1936 nickel. |

The brewery gave up the promotion after running it only a short while, perhaps because they were going to discontinue the brand. Perhaps because they didn't want the public to get to used to the brewery paying their meters! At any rate, the promotion was popular while it lasted. The brewery got hundreds of thank you letters, some returning the nickels, and even added a few new dealers to carry their product.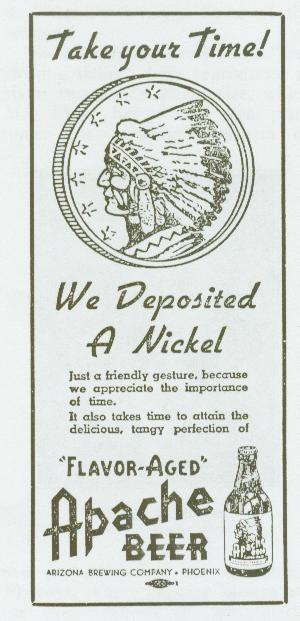 The flyer left on the windshield of parked cars in Phoenix.

Elder introduced a new brand of beer starting in 1939, Elder Brau. It seems to have sold well, when the distributorship business was closed in August 1941, increasing sales was Elder Brau was given as the reason. However, it may have been because the distributorship was losing money, Elder declared bankruptcy in November 1941. A local businessman, Ralph Feffer, was made trustee. He got the brewery back on solid financial ground and in March 1942 Elder Brau was discontinued. At the beginning of World War II, German names were unpopular and a lot of breweries starting in the late 1930s eliminated German names on the brands. For example, "Noch Eins" brewed in Columbus, Ohio, was renamed "Washington Lager" and their label replaced a little burgermeister with an American Eagle. Elder Brau may have been a victim of this same wave of renaming.

In August 1942 the brewery was sold again, this time to Joseph F. Lancer, the president and general manager of the Columbia Brewing Company in Tacoma, Washington. (I hope you're paying attention to all these names, there will be a quiz later.) Lindner continued as brewmaster. The new owners introduced A-1 beer in January 1943. Apache Beer was dropped as were the other brands the brewery produced. The only exception was "Dutch Treat", made for a local supermarket chain. Brewery production increased from about 15,000 to about 55,000 barrels a year. When wartime grain restrictions were lifted in 1946 production increased even more, to almost 82,000 barrels a year.

In 1947 the brewery was expanded and a new canning line was added. In January 1948 canned A-1 beer appeared, the first canned beer from the brewery since 1937. Sales continued to increase along with the population in the Southwest. The brewery produced 185,000 barrels by 1952. However, that was the peak year for the brewery. The nationals and large regional breweries were expanding in the Western markets and the competition began to bite into A-1 sales. The big blow, however, came from Coors, made in nearby Colorado. They offered distributors 3 kegs for the price of 2. Arizona Brewing could not match the offer. This practice was later prohibited by federal regulators, but only after it was too late for the Phoenix brewery. Anheuser-Busch added to their woes when they threatened to sue over the use of an eagle on A-1 labels. Unable to match Anheuser-Busch's legal resources, in early 1958 Arizona Brewing changed their label and replaced the eagle with a knight on horseback with a banner reading "Lancers", a play on the brewery president's name. In late 1959 they changed the can again, switching to a a new bronze can with western symbols such as a sun, a saddle, deer and cactus.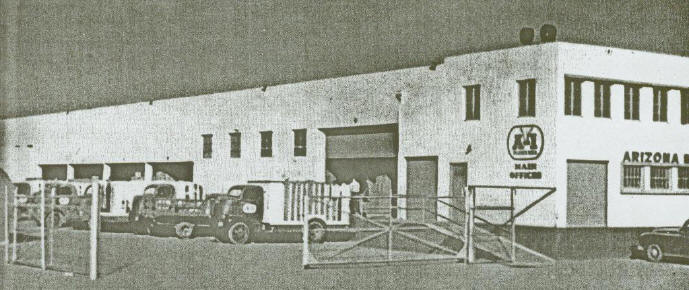 The Arizona Brewery in about 1948.

In 1961 Lancer retired, on of Lindner's sons became president and Lancer's son, J.F. Lancer, Jr., became vice president. In 1962 they produced a new beer, lighter than A-1, called "Lancers A-1." They also introduced other new brands, including Oberheit, Van Lauter, Argonaut, Snowcrest, etc. In 1963 the elder Lindner and Lancer senior passed away. At the same time, apparently as a cost cutting measure, the beer recipe was changed, and brewery sales slipped further.

In October 1964 the brewery was sold to Carling Brewing Company. Some of the larger regional brewers were trying to compete with the national companies by buying small breweries and expand their markets. Carling was one of those trying to expand and they added breweries in Baltimore, Maryland, Belleville Illinois, Tacoma Washington, Frankenmuth, Michigan, and Natick, Massachusetts to go along with Carling's original brewery in Cleveland. The former Arizona Brewery in Phoenix was Carling's ninth facility. In 1966 they sold it to National Brewing Company from Baltimore. Carling operated it again from 1975-1979, and G. Heilman ran the plant from 1979 until 1985, when it was finally closed.

For More Information
This was a very brief summary of the history of this interesting brewery. To learn more information check the articles by Ed Sipos, who is the acknowledged expert on brewing in Arizona. You can find his lengthy article "A-1: The Western Way to Say Welcome" at
beerhistory.com
. He is also producing a book on the brewery and I'll post a link to its Amazon listing when it appears. Also check Ed's website,
Arizona Brewing
.
Apache in the Movies!
In the 1936 movie "Petrified Forest" with Humphrey Bogart, there are some fake Apache Beer bottles and an Apache sign in the movie. Thanks to the Rustmonger for the photos!
An Apache sign, and then some mock Apache bottles in the movie.

Brands Produced by Arizona Brewing, 1933-1964
(Beers canned are in bold)
Additions and corrections are always welcome! Please email me at Mark@rustycans.com
(Thank you to Andy H. for the additions!)
Arizona Brew
Sunbru
Apache Beer
Apache Blue Label Beer
Apache English Type Ale
Apache Flavor-Aged Beer
A-1 Beer
A-1 Ale
A-1 Bock
Argonaut
Arizona Apache
Dutch Treat
Elder-Brau (canned when it was reintroduced in the early 1960s)
Hopi
J.F. Lancer's A-1
Lancer's Bock
Lancers A-1
Ruser
Snowcrest
Van Lauter Bavarian
Wunderland

Sources Used:

Website: "A-1 Beer Prints"

"Arizona Brewer Wins Acclaim by Novel Advertising 'Stunt.'" Brewer's Journal (September 15, 1938) 61.

Barnes, Todd. "An Illustrated Guide to Arizona Beer Cans" (2003)

Beer Can Collectors of America. United States Beer Cans (Beer Can Collectors of America: Fenton, Mo)

CoinCentric has a history of the Indian Head/Buffalo nickel.

Flint, Lucius S. "Live Indian Advertises Name of Arizona Brewing Company Beer" Brewers Journal (January 1936) 82-83.
Sipos, Ed. "A-1: The Western Way to Say Welcome" from the
Beer History website
.
Sipos, Ed "Apache Beer: Chief of the All"
Beer Cans and Brewery Collectibles
(August-September 1999) 4-6.
Van Wieren, Dale P.
American Breweries II
(West Point, PA., East Coast Breweriana Association, 1995)