Santa's Cookies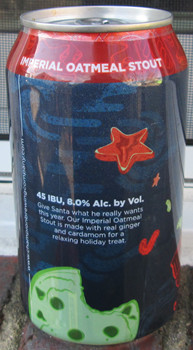 This month's can is from Champion Brewing in Virginia. A prolific micro in northern Virginia, Champion puts out a lot of different cans, generally with the shrink-wrap labels. I've stopped trying to keep up with them, but kept this month's can (in 2 different versions) because I like the design so much. It's an imperial oatmeal stout with spices added.
This can is the 2016 version. In 2017 Champion issued the brand again, but the label has a few small differences. Here is the 2017 label.
The 2016 version has the red band at the top with "Imperial Oatmeal Stout" on it. The 2017 can has the independent micro brewer's logo at the bottom near the back seam.