For photos taken after 2008 please check my
Dumping Pics Page #1
May 2008
Went to a dump near Fredericksburg that was an old fishing grounds dump. Condition was AWFUL, but we did pull a handful of tough cans out of the ground. I ended up digging down several feet into a small hillside between some old trees and found some late 1940s cans.
Also took some friends to the house foundation dump that I visited earlier in the year.
| | |
| --- | --- |
| | My pit. |
| | Yes, these were the better cans. The Pilser's (right center) are a tough label. |
| | Bill's cans and bottles at the old foundation dump in north-central VA. |
| | Bill and Matt dig. |
April 2008
Visited several dumps I'd been to before, including one in north-central Virginia. It was a very large dump but mostly common cans. It also had a lot of oil cans. Dating from the late 50s to the late 1960s it contained a few surprises. Another trip to central Virginia resulted in a large pile of Old Georgetown's and some bock cans!
| | |
| --- | --- |
| | Many of these Old Georgetown'sare a variation with a light yellow border. |
| | The Bock cans were a nice find. |
| | This is the 1960s dump. |
| | Three wine cans and a paper label can! The paper label Schlitz Malt Lager was under a large barrel lid that was itself under a small tree. |
| | The wine cans were zip tops circa 1965. |
March 2008
Visited an old house dump in northern Virginia that some bottle collectors found and took me too. The property owner came by but agreed to let us dig. Thank you!
| | |
| --- | --- |
| | A view of the dump. |
| | This chimney looms over the whole spot. |
| | Some of the cans after cleaning. |
| | My favorite two from this dump. |
December, 2007
I made a couple dump trips this month and we found 40s cans both times. Nothing rare, and nothing that would thrill more experienced dumpers, but it was fun digging and at least we found some cans with age.
Some of the cans from one dump, pre-cleaning.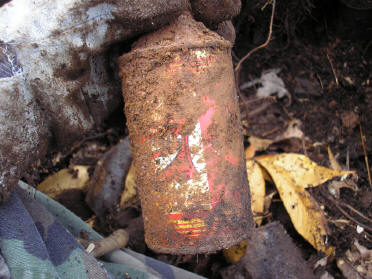 Nice color coming out of the ground.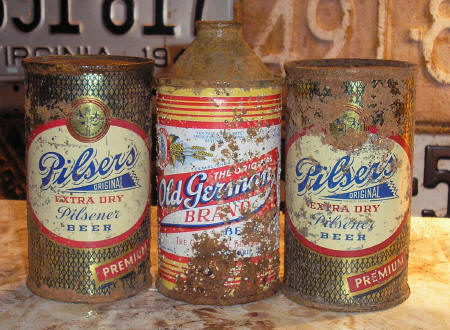 Three of the better cans, all from 1948-1950.
July, 2007
A bottle collector told me about this huge can dump in Maryland and I visited several times over the summer. Most of the cans are toast, but enough good ones survived to make it worthwhile. Plus, I actually dumped signs in the dump. That's a first for me!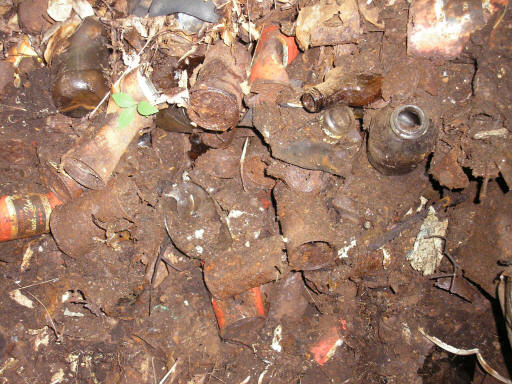 Some of the cans in the ground. As you can see, condition was awful. There is some color in there though.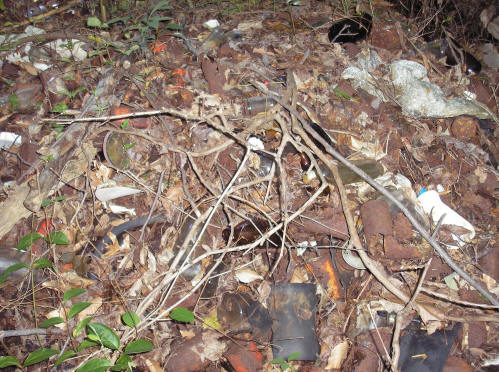 More of the dump, pre-digging.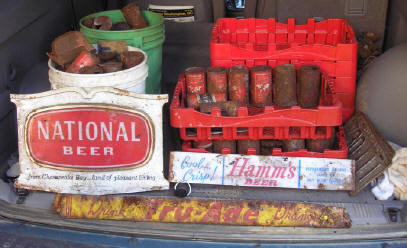 Signs! And some cans from one trip.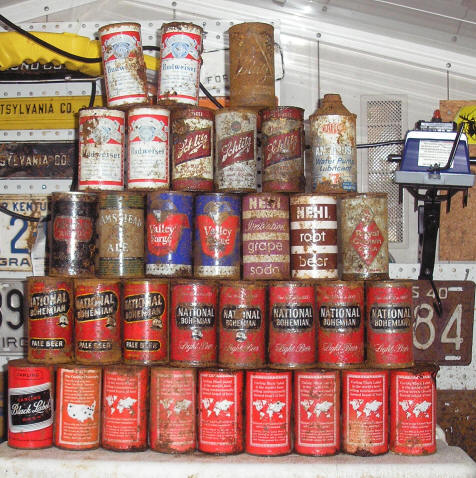 Some of the cans post-cleaning.
April 2007
| | |
| --- | --- |
| I went on my normal Spring trip to New England. It was a bit cold, and in some places the ground was still frozen with some snow! Still, found some good cans which looked pretty clean still in the ground. | |
| | Some early 1950s Ruppert's from New York came fairly clean out of the ground. |
| | A small dump of 1940s-1950s cans around a small tree. |
| | Here is a short (46 second) of us digging in the chilly woods. |
January 2007
Finally got out on a nice day and we found some untouched 1950s cans in western Virginia. We found some nice Bock cans as well as a ton of Gunthers from Baltimore. We ended up with about 7 cases of cans to clean, most from this spot.
| | |
| --- | --- |
| | George and "Candog" (on right) dig up some rust. |
| | "Candog" pulls his rake through some leaf cover to reveal some 1950s cans. |
| | A nice Valley Forge Bock from Adam Scheidt Brewing. It was inside another can. This photo shows it even before being washed, let alone before its acid bath! |
| | Here is a sampling of some of the cleaned cans. |
April 2006
Several of us scheduled a trip to western Massachusetts for May 2006. Of course we managed to pick the weekend of the worst rainstorm in New England in decades! As a result we found a few cans, but a LOT of rain.
Mark comes back soaked. His rain jacket had been torn in half by a branch.
A pile of bottles dating from the 1930s.
Pete (foreground) and Mark K (L) and George (R) dig in the rain.
Lots of rust to clean. This is only the half of the cans I took to clean. The license plates were from 1938.

Not much was worth keeping once it was clean though.

The full story from the BCCA Magazine (3 mg pdf) . "R for Rain."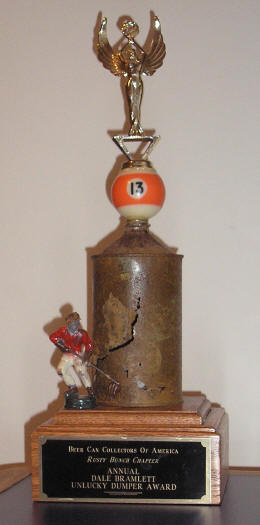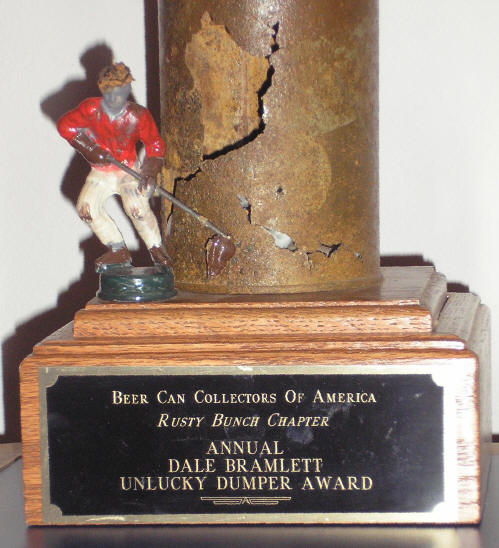 UPDATE: and the four of us won the Rusty Bunch "Unlucky Dumper" trophy for 2006! woo hoo!
April 2005
Wow, that was a long dry spell, only one trip between March 2004 and April 2005 (the Richbrau chapter trip in December). At any rate, several of us descended on a friend's house near Springfield Massachusetts in April for several days of dumping. We found dumps from the 1930s, 40s and 50s.
| | |
| --- | --- |
| | Loading the van with cans. (Left to right) Shawn, Pete, George, Mark K. |
| | I love being out in the woods and finding spots like this, an old bridge on a dirt road in the forest. There was a stream running under it so I just stood and enjoyed the quiet for awhile. |
| | A pile of late 1930s cans growing as we dug in the woods. |
| | An Opening Instruction panel on a can fresh from the ground. |
| | In February 2006 we finally divided up all the cleaned cans. |
| | The best cans. All but the Ruppert are from the 1930s. The Ruppert is from the 1940s. |
March 2004
George and I re-hit the "Quizzie Dump" near Mineral Virginia on a nice warm early-Spring day! Other Rusty Buncher's have pulled hundreds of Esslinger Quizzie cans from here, so we're going through pockets of cans they missed and the rejects. We still pulled a few hundred cans out to clean. Alas, I also picked up my first (mild) case of poison ivy. ARGH. I'd been immune before now!
| | |
| --- | --- |
| | George digs. |
| | The Quizzie dump is HUGE. |
| | Our treasures, pre-cleaning. |
November, 2003
The first day of hunting season in Virginia, so we wore orange vests. Down near the Rappahannock River we found an area where the trees had been downed by Hurricane Isabel. The trees had been in the middle of a 1950s dump and we could see cans hanging in the root balls! We stopped and pulled a few out. Unfortunately, because the area was so low, the cans were mostly rusted beyond repair. We still found a handful worth saving.
June 2003: Visiting New England:
In late June George and I visited Pete S. in western Massachusetts for a long weekend of dumping. It was amazingly hot for Massachusetts, well into the 90s and HUMID, but that's typical here in Virginia so it didn't stop us. We laugh at heat and humidity!
| | |
| --- | --- |
| We looked for a pit dump that a bottle collector told Pete about, one that was supposed to be by the Connecticut River near the border with Vermont. Climbing down a very steep hillside, I followed a long trail through the woods with my metal detector and found myself down by the river. The view was great! | |
| Halfway down the hillside to the river was this collapsed cabin. I used my metal detector to scatter dump around it and down the path closer to the water. Found some 1950s and 1960s cans, nothing major, and an old ax-head. It looked like the people in the cabin sometimes tossed their trash over the hillside (to the right of the photo). | |
| That's me, sweaty but happy in a sandy pit of cans from the 1950s and early 60s. At least it was cool in the pit. I am holding a Fitz Beer from Fitzgerald Brewing in Troy, N.Y. Always refill the pit when you're done! | |
| The next day we went scatter-dumping along an old wall near a fishing lake. That's Pete with his metal detector. We found a bunch of green Harvard Beer cans and several kinds of Narragansett cans. I also found two 1938 Massachusetts license plates under about 9 inches of leaves and mulch. Alas, we didn't find any cans that old except for a single Brocket J-spout , which unfortunately didn't clean up well enough to keep. | |