Gunther's Radio Shows: Black Moon Mystery and A Quiz of Two Cities
Black Moon Mystery
In 1934 Gunther began sponsoring a mystery show on local radio. Titled "Black Moon Mystery" the half-hour show aired from 6:15-6:45 on WFBR on Thursday (later moved to Monday) nights. It was also piped to WRC in Washington. Each episode started and ended with the recurring character, a hard-boiled big city reporter, enjoying a Gunthers Beer. He'd start narrating the story and the scene would dissolve to the actors performing the mystery. The cast came from a local actor's group called "The Vagabond Players" (who still exist, see their website). I don't know how long the show lasted, but it did play at least from 1934 into 1935.
A Quiz of Two Cities
It just went on...and on...and on. That was the story of the Gunther Brewing Company's radio show: "Quiz of Two Cities." Starting in 1938 and lasting for over ten consecutive years, the Maryland brewery sponsored a game show titled '''Quiz of Two Cities" to Baltimore and Washington audiences. At times it reached a audience most advertisers could only dream about. Under the Gunther banner it occasionally reached the amazing total of 71% of its possible radio audience. From 1938 through 1947 it never delivered less than 31% of potential listeners.

Other advertisers throughout the country sponsored the "Quiz" in their respective cities (see a partial list at bottom) but never was the show as popular as in the Baltimore-Washington market where it aired on WFBR, Baltimore and on WTOP (and later on WOL) in Washington on Wednesday night. The show also aired on WMAL in Washington and on Baltimore TV on WAAM in 1951-1952.
Newspaper advertisement, March 1942.
Al Buffington
The show was created by Albert "Al" Buffington and sold to Gunther Brewing in the 1938. The young salesman used "A Quiz of Two Cities" as a temporary name, but it stuck as the idea of a rivalry between two neighboring cities became a natural way to sell the program. Gunther sponsored it in Baltimore-DC, but Noxzema sponsored it elsewhere. It spread first to Minneapolis-St. Paul, then nationwide. The originators were able to profit from filing a patent the way the show was transmitted between two cities, which made licensing easier. It was broadcast on WFBR in Baltimore and WMAL in DC until 1942, when WOL snatched it from WMAL. The original announcers were Henry Hickman in Baltimore and Bryson Rash (?) in DC.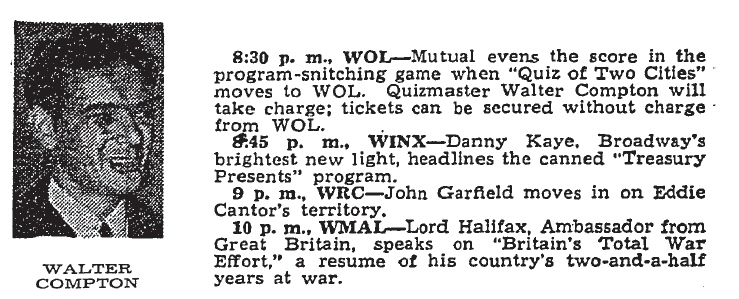 From the Washington Post, March 15, 1942.
The Show
The format of the "Quiz" remained pretty much the same during its long tenure on the air. The Quiz had four rounds, so four contestants were chosen in each city to participate in the program. Each round was worth twenty dollars to the contestant in Baltimore and Washington (even though one might be asked three questions and the other only one or two.) In addition to the twenty dollars offered each round, twenty points were awarded if the question or questions were answered correctly. At the end of the broadcast, the points were totaled to determine which city was the winner for that week. The highest scoring contestant in each city were then eligible to compete for the "Super Bonus Pool Question." (When a contestant failed to answer a question or a part of a question, the money allocated to that particular question was put into the Super Bonus Pool.) Some "bonus pools" exceeded two thousand dollars and many went over a thousand. To add some perspective, the average yearly salary in 1950 in the US was about $2,900. In 1940 the average income was a bit under $2,000 and the minimum wage was 43 cents an hour! If a contestant "hit the jackpot", the pool started off the next week with a fresh one hundred dollars. The Super Bonus Question was usually fairly tough, but eventually some lucky contestant won it all.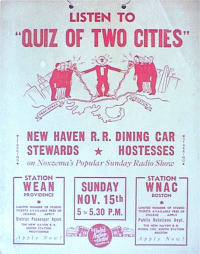 This is a poster for "A Quiz of Two Cities" for New England. Circa 1940s.
Courtesy of Marc Frattasio and the New Haven RR site.
The Home Version
In a booklet published by the brewery during the Second World War, Gunther included a short "home version" of the game. I've attached it here as a small pdf.
Baltimore-Washington DC
Successful as the program was, the Gunther Brewing Company and its advertising agency, Booth, Vickery & Schwinn, did have some problems, the toughest being where to put the thousands of loyal listeners who wanted to see an actual broadcast of the show. Unable to accommodate the huge influx of requests for tickets to the broadcast because of a lack of seating capacity in the Baltimore and Washington studios, it was often necessary to lease a large theater or auditorium to work off the backlog. Normally, the show was presented from the WFBR studios in Baltimore. In DC it was sometimes broadcast from the Almas (Masonic) Temple or from the Wardman Park Theater. Contestants for the Quiz were then drawn by ticket from the studio audiences.
According to a 1947 Washington Post story, one local woman made a hobby of appearing on game shows and won money on "Quiz of Two Cities" several times, including $1402 in one pot. She also won prizes on "Professor Quiz" and 3,000 cigarettes (!!) on the "Bob Hawk Show."
"A Quiz of Two Cities" was also broadcast on television in Baltimore and Washington on Wednesday evenings starting in 1951. It was broadcast on WMAL in Washington hosted by Bill Malone. In Baltimore it was on WAAM hosted by Henry Hickman. It was aired simultaneously on radio in both cities. The top prize by this time started at $250.00. Prizes were paid in silver dollars. I do not know how long the show lasted on television, but by 1952 it was no longer listed as one of Gunther's sponsored television shows in trade publications.
"Quiz of Two Cities" television broadcast from WMAL, Washington, probably 1951.
Questions for the show were either made up by the agency or were submitted by listeners. If a submitted question were used on the program, Gunther's sent two dollars to the person sending in the question. If both the contestants in Baltimore and Washington missed the question, then the submitter's reward was upped to ten dollars. A newspaper 1947 story mentioned that host Walter Compton had recently called on a woman at random from the audience and then found that the woman he called on had been the person who submitted the question being asked. Embarrassingly, the woman forgot the answer to her own question so she was given another one!
Other Cities
While the show was most popular in Baltimore and Washington, it was copied in other areas. Here is a partial list of those areas and stations that aired their own version of "The Quiz of Two Cities." Additional information is always welcomed to update this list!
From an ad in the November 25, 1946 issue of Broadcasting.
WFBR: Baltimore-WOL Washington, DC*
KFRC, San Francisco-KHJ, Los Angeles
KOMO, Seattle-KGW, Portland
WCCO, Minneapolis-St. Paul
WOW, Omaha-WHO, Des Moines
KTUL, Tulsa-WKY Oklahoma City
KRLD, Dallas-Fort Worth
KTRH, Houston-WWL, New Orleans
WNAC, Boston-WEAN, Providence
WAPI, Birmingham-WGST, Atlanta
WBT, Charlotte-WRVA, Richmond**
WOR, New York-WGN, Chicago
WGAR, Cleveland-WJR, Detroit
WHAM, Rochester-WBEN, Buffalo
WTIC, Hartford-Springfield
KMOX, St. Louis (intra city)

Buffalo Bob (from Howdy-Doody) co-hosted in Buffalo, New York.
*It was on WMAL in DC from 1938-1942 and on TV in Baltimore on WAAM.

** Listed in another source, Richmond versus Norfolk, Virginia on WRVA.
Odds and Ends
Mark Goodson was one of the announcers (in New York?)
Al Buffington also created the show "Good Egg of the Week."
In 1947, DC "Quiz" announcer Walter Compton hosted "The Walter Compton News" (or "Walter Compton and the News") on the Dumont TV network. It was the first network news show to originate from DC. (source). Compton died in 1959.
Additional Information Needed:
I still need some more information, including (but not limited to).
When did the show end in Baltimore and Washington?
Did any other stations air the show in addition to the ones on my list?


If you can help, please email me at Mark@rustycans.com I always credit contributions!
Sources Used:
Baltimore News-Post. 31 January 1934
Baltimore Sun, March 3, 1991
"Compton Runs Afoul of Law of Averages" Washington Post, August 27, 1947.
"DC Woman Quietly 'Raids' Quiz Shows" Washington Post, August 3, 1947.
"Dramatic Radio 'War' Between Two Cities Thrills Listeners" Washington Post, November 10, 1938
Maryland-Washington-Delaware Beverage Journal (assorted articles and ads)
Radio Variety. 1 January 1935
Thanks to Karl S. for additional info!
Letter from Al Buffington, April 3, 1984. (copy provided to me by Karl S.)
Email from Craig B. to me about Albert Buffington.