Los Angeles Brewing 1897-1953

Los Angeles Brewing was originally founded in August 1897 by P. Max Kuehnrich and Edward Mathie. They produced a lager beer, a malt extract called Mission Malt Tonic, and a near beer called "Temperance" which had less than 2% alcohol. In 1907 it was purchased by George Zobelein. Zobelein had a long and varied career in brewing as well as in other businesses. He was born 1846 in Grafenberg, Bavaria where his father was a brewer. At 17 he apprenticed as a brewer. His new career was interrupted, however, by a war between Prussia and Bavaria in which Zobelein was captured and kept prisoner for a few weeks during the so called "Seven Weeks War." He was held in the castle at Ehrenbreitstein (which, FYI, in 1919 was occupied by American troops after the First World War.)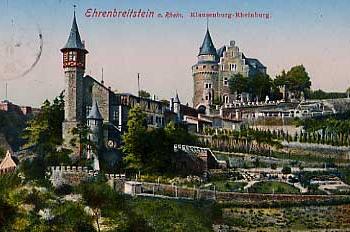 Ehrenbreitstein Castle.

In 1867 when he was released Zobelein emigrated to the US. He landed in New York, but quickly took a ship to Panama, crossed over the isthmus by land, then caught another ship to San Francisco. Once in California he worked at and owned several small stores and groceries in California in Los Angeles as well as in various mining camps that popped up during the later part of the 19th century. For several years he followed the silver mines through California setting up stores in the mining boom towns. When the silver boom lessened he went back to Los Angeles and worked at the New York and the Philadelphia Breweries (both of which were in Los Angeles despite their names). In 1882 he sold his share of the Philadelphia Brewery to Joseph Maier, who later became a partner in the brewery. In 1907 the partnership broke up, Maier's part became the Maier Brewery and Zobelein took over controlling stock in the Los Angeles Brewery. Since his brewery was on the east side of the Los Angeles River, Zobelein called his new beer Eastside.

When Prohibition started in California in 1920, Zobelein continued business making apple cider, pineapple juice, a root beer and Eastside, which was now a near beer. They had trouble keeping the cider from fermenting too much, making it too "hard" to legally sell so they dropped that part of the business as well as the pineapple juice, which simply wasn't selling. They also gave up selling the root beer in bottles and distributed it solely in barrels. The big sell for the brewery, besides Eastside near beer, was denatured alcohol. The brewery brewed Eastside as a regular beer, then removed the alcohol. The alcohol was then sold to industrial companies, such as those that made paint as well as for companies making vanilla extract. It was also sold to doctors and dentists. Doctors were allowed to buy 5 gallons a year with special permits. Dentists were allowed 2 gallons a year. Hospitals and drug stores could also buy it, the amount depending on their needs. Los Angeles Brewing made a good business of selling alcohol to the medical market under the brand name "Tru-Grain."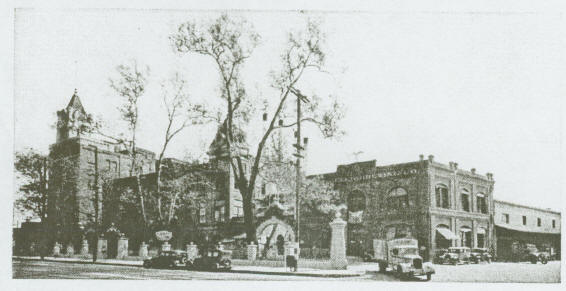 Los Angeles Brewery, 1930s.

When Prohibition ended in 1933 Zobelein was ready to restart his old business. Because they were brewing real beer already, all the brewery had to do was skip the denaturing process. Numerous trucks were parked at the brewery loaded and ready to go as the day when legal beer could be shipped approached. The brewery had seven acres of land so each truck was filled with bottles and barrels of beer, and then, accompanied by two treasury agents, moved to its parking spot to await 12:01 am April 7, 1933. At 12:01 am, actor Walter Huston said a few words and Jean Harlow broke a bottle over the first truck in line christening the brewery's rebirth. The trucks started rolling out the gates, most with one or two armed guards riding along. When the night was done one executive for the brewery reported they had a stack of money 18 inches high and when they counted all the night's receipts they found they had taken in over one quarter of a million dollars for their beer. Things were so chaotic that they got payments for beer they didn't even remember selling. Of course, the fact that Jean Harlow stuck around partying with the brewery employees probably didn't help!
| | |
| --- | --- |
| | |
| | |
The brewery did well in the 1930s and 1940s. It was a regional beer judging from where their cans have been dumped, mostly southern California and Arizona. Zobelein died in 1936 and his son took over the brewery. They introduced cans in 1937 choosing flat tops such as my can-of-the-month above. They sold Eastside Beer, Eastside Ale, and in 1939 introduced a premium beer called Luxury Extra Dry Pilsner. Eastside Beer remained their big seller however. (Eastside Ale cans are quite scarce and Luxury was never canned). They also canned Brown Derby Beer for Safeway stores in the 1930s.

| | |
| --- | --- |
| | The Zobelein family about 1933. Left to right standing are: Eugene, (grandson of George, son of Philip), Oliver, (grandson of George, son of Philip), Richard, (grandson of George, son of Edward), Philip, (son of George), John Graf, (George's adopted son). Seated are George and Zemula Zobelein (Granddaughter of George, daughter of John). Note: George Zobelein Sr. had 8 children in total. The first two were from his wife's first marriage that left her a widow at age 23. Thank you to Laura L from the Zobelein Family for identifying all the people in this photograph! |

The brewery ran a series of unique ads in the 1930s emphasizing how much they contributed to the community in wages, taxes, etc. The ad campaign, called "The Eastside Dollar" was aimed against prohibitionists by showing how much money the community would lose if Prohibition ever returned. This was a common theme for ads run by brewing trade associations into even the 1950s, but it was unusual for a single brewery to run such a campaign on its own. For example the ads run in 1940 show that in 1939 Eastside paid the following...








| | |
| --- | --- |
| Where the Money Was Spent | Amount |
| Taxes | $2,265,604.68 |
| Labor | $1,124,460.96 |
| Farm Products (grain, etc.) | $519,576.47 |
| Bulk Cost | $124,656.17 |
| Kegs, cans, bottles, etc. | $539,913.65 |
| Plant maintenance, power, etc. | $199,883.11 |
| Insurance, freight, ads, etc. | $662,254.65 |

 


Pabst Takes Over
After World War II, Los Angeles changed their cans to a blue label. They also added a conetop line to their flat top canning line and produced both cones and flats. They also made a bock beer in a flat top. However, the brewery could not break out from its regional status. In 1948 it was purchased by Pabst Brewing in Milwaukee but continued operating as a separate company. However, Pabst, one of the 3 biggest brewers in the US, wanted to expand to the West Coast. In 1953 they took over management of Los Angeles Brewing and added new brewing facilities next to the old buildings. They continued making Eastside Beer but it took a back seat to Pabst's own Blue Ribbon brand. Eastside, now called Eastside Old Tap, became a low-priced discount beer. Pabst continued operating its Los Angeles plant until 1979.
The old brewery site is now an artists' complex. You can see photos of the buildings now at Rob Greer's Photography studio site. (opens new window)
Los Angeles Brewery, 1950s.


MOVIES
The brewery put out a little humorous film in 1933 as Prohibition was ending. (silent film, from the National Archives collection)
I also have a separate page with scenes from a 1937 movie showing the brewery in action! Because the original film is 65 mg I have placed screen captures on my site instead.
Name Changes
Los Angeles Brewing Company (aka Eastside Beverage Co.) 1897-1920
Zesto Beverage Co. 1920-1926
Los Angeles Brewing Company, (aka Eastside Brewing, aka Mission Brewing Co) 1933-1953
Pabst Brewing Company 1953-1979
Brands Canned by Los Angeles Brewing
Brown Derby Beer
Eastside Ale
Eastside Beer
Eastside Bock
Eastside Old Tap

Sources Used:
Thank you! to the members of the Zobelein family who emailed me!
For more information on the Zobelein family see their family history online.
Andrews, Dan "Beer Cans from the Eastside of Los Angeles" Beer Can Collectors News Report (December 1993) 33.

Beer Can Collectors of America. United States Beer Cans. (Beer Can Collectors of America: Fenton, Mo) .

Beer Can Collectors of America. Catalog of American Beer Cans. (1993).

"Death of George Zobelein, Sr." Brewers Journal (July 1936)

"Half a Century of Brewing with George Zobelein" Modern Brewery (December 1933)

"'Human Interest' Sells Eastside" Modern Brewer (March 1939)

Koeppel, H.V. "Los Angeles Brewing Co. Makes Big Progress and Helps Cause of Beer" Brewers Journal (September 1937)

Lilek, Kevin C. United States Beer Cans with Opening Instructions (2004)

"News and Views of the Breweries" Modern Brewery Age (November 1953)

One Hundred Years of Brewing (Chicago & New York: H.S. Rich & Co. 1903) 534.

Snyder, D. W. Cradle to Medicare (privately published, ND) (Memoirs of one of Zobelein's employees)

"There is Always Room at the Top" Modern Brewer (August 1939)


Van Wieren, Dale P. American Breweries II (West Point, PA.: East Coast Breweriana Association, 1995) 27.